Meet Jill! An Oral Health Advocate who Specializes in Oncology
Aug 08, 2023
Today we sat down with Jill Meyer-Lippert, RDH. She is an award-winning oral health integration thought leader in oncology care from Manitowoc, Wisconsin. She instructs a few modules of the Oncology Certificate Program at National Network of Healthcare Hygienists (NNHH), is a founding member, and is also a recent Certificate Holder.
What is your current role?
I am an oral health advocate specializing in oncology. I fill a gap in the healthcare system by providing education and access to appropriate oral health products for cancer patients, their family caregivers, and their medical & dental providers.
I am the founder of Side Effect Support, where I consult and collaborate with various medical providers by providing educational presentations, and offering custom Oral Care Kits that can be provided by their facility. I also have printable patient education available to make oral health integration easier on treatment facilities. When patients have questions about cancer treatment and chemotherapy oral health side effects and treatment options, they can refer them to me via my website.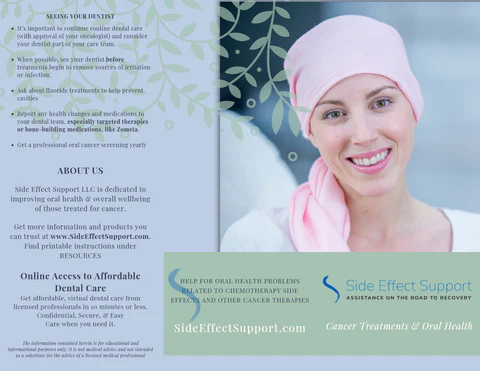 What did you choose for your Capstone Project or Practicum?
For my Capstone Project, I chose to present virtually to a patient support group about oral health and cancer. Providing these types of programs directly for patients and their family caregivers is one of the things I enjoy the most! Anyone who faces a cancer diagnosis, no matter what age, tugs at my heart. I strive to provide a much needed support system and empower them and their family during a time of fear and uncertainty.
Do you have a personal story attached to that?
Yes, so many! With the presentations that I provide for patient support groups, attendees often share stories about their own experiences with oral side effects and resulting damage to their oral health. The stories are far too common and strikingly similar - that they were provided little to no guidance from their care team and that many do not feel like their medical and dental providers truly understand their challenges or how to help them. The Oncology Certificate Program for RDHs is a great step forward in making an impact towards change and fostering more collaboration.
What type of role / job description do you dream of?
I feel that I am living the role that I have dreamed of but this dream would include having a wider reach and collaborating with more treatment centers to help a greater number of people. It has been quite a slow process to grow the awareness and break down barriers for collaboration within cancer care systems.
Why did you enroll in this Certificate Program?
I had the honor of being one of the instructors for the Oncology Certificate Program and simply thirst for knowledge in this area to make sure that I am providing the best information and services to anyone who utilizes Side Effect Support. It was wonderful learning from so many other instructors with varying backgrounds and presentation styles.
What was the main benefit for you?
I have really enjoyed getting to know some of the other instructors more and look forward to connecting with more of the RDHs that complete the program to see how we might collaborate to support each other's goals. I think whenever you demonstrate that you are willing to go above and beyond to further your knowledge base, it opens up new doors!
I launched Side Effect Support in 2013 after running a volunteer program from 2006-2012 that provided oral health information and product samples to oncology patients, so this is a subject that is incredibly near and dear to my heart. I saw a need so early on in my 30+ year dental career and often felt like I was on an island with no one else understanding the importance. It's a great feeling to know that I am not alone and that together, we will make a huge difference in the care that many people receive and not only improve, but potentially save lives!
What would you say to hygienists considering the program?
The reality is, we will all be touched by cancer at some point in our lives, whether it be a patient, a family member or friend, or facing our own diagnosis. This information can serve you in ways that you may not expect and you will wish you had it if/when that diagnosis arrives.
Jill is most certainly a "Healthcare Hygienist with Heart!" Connect with her at [email protected]
Enroll in the Oncology Certificate Program for RDHs HERE